Hiking on Alpe di Siusi: uniquely beautiful
The Sciliar area is a true paradise for active holiday-makers and nature lovers: biking, climbing, and hiking on Alpe di Siusi promise dream panoramas, varied natural landscapes, and plenty of sunshine. Wherever your tour takes you: You'll always enjoy a 360-degree panorama of Sciliar with Punta Santner, Sasso Piatto, Sassolungo, Marmolada, the Sella plateau, and the Odle group. Of course, golf lovers also find everything their hearts desire at San Vigilio Golf Club in Siusi, while horse fans can look forward to riding on Alpe di Siusi with a dream view.
Alpe di Siusi, Europe's largest high Alpine pasture, is the perfect destination for anyone who enjoys exploring idyllic natural landscapes on foot. Here, you can take leisurely walks through flower-filled Alpine meadows and expansive pastures, as well as more challenging summit tours, for example up Sasso Piatto or to Rifugio Bolzano at 2,457 metres above sea level and then on to Monte Pez. If you prefer a slower pace, we recommend a hike to the Witches' Benches on Monte Bullaccia, an old place of pagan worship. Hiking on Alpe di Siusi promises an unparalleled Dolomites panorama and fully replenished reserves of vitamin D.
MTB tours on Alpe di Siusi
Alpe di Siusi is also ideal for extended bike tours in the midst of an idyllic landscape. You can enjoy an especially wonderful tour to Laghetto di Fiè and on to Malga Tuff, where alpacas, horses, and rabbits await you. If you'd prefer something more challenging, then head to Mahlknecht hut and onward to Alpe di Tires hut at 2,440 metres above sea level. The return route leads past the awe-inspiring Denti di Terrarossa, letting you fully immerse yourself in the legendary world of the Dolomites. But e-biking on Alpe di Siusi is just as beautiful as mountain biking and makes your ascents less taxing – the mountain-bike routes are also perfect with a little extra power behind your pedals.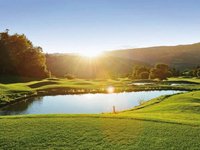 golf course right outside the hotel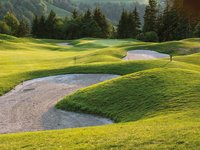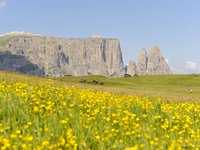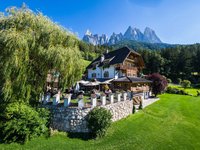 After exertion comes refreshment.
And Laghetto di Fiè is the perfect place for it. Located at 1,056 metres above sea level, not far from our village Siusi allo Sciliar, this small bathing lake has a maximum depth of 3.5 metres and nestles harmoniously into the idyllic landscape and the majestic Sciliar backdrop. Half of the lake is designated a biotope, while the other half offers you feel-good refreshment after biking or hiking on Alpe di Siusi.