Well-earned revitalisation at Restaurant R19
You know the feeling: You've had a rewarding day on the golf course, a long hike on Europe's largest high Alpine pasture, or a challenging bike tour at the foot of Sciliar, and now want to do something about your rumbling stomach. How about a break at our Restaurant R19?
Hearty, traditional, delicious
Of course, we're talking about our cuisine. Our kitchen team spoils you with Alpine-Mediterranean delicacies like pasta dishes or salads, as well as hearty dishes like burgers, all the way through from 12 noon to 8.30 p.m. How about a creamy cappuccino and a piece of Sachertorte chocolate cake on our sunny terrace with 360° view?
Our tip: Even if you're not staying at Golfhotel Sonne, you can pay a visit to our Restaurant R19 and sample the delicious treats conjured up by our kitchen team. We kindly ask that you make a reservation.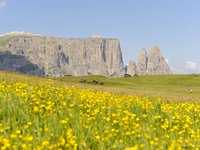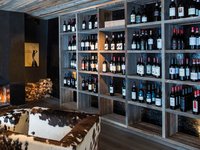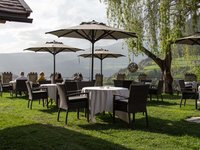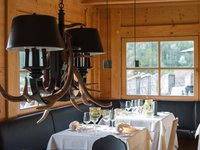 Dining with a view: That's the perfect way to describe our Restaurant R19. When the weather's good, you can enjoy our culinary delights with an idyllic view of the Dolomites from our sunny panoramic terrace! The first thing to catch your eye is the mighty Sciliar, but if you let your gaze move on, you'll discover lush, green meadows, more majestic peaks, and thick forests. Listen carefully: Do you recognise the songs of all the different birds?